Probably 1939-46. Probably only manufactured Haley designs using General Glassware as the wholesale operation.
Garmon & Spencer in "Glass Animals" list 4 figurines but no details beyond "Carney, Kansas (affiliate of General Glassware)".
Under K R Haley they mention that he set up General Glassware in 1939 which was dissolved in 1946 following the death of his partner Herman Lowerwitz who was the president of American Glassware. Haley continued as K.R. Haley Glassware Co. Inc. until 1972.
Manufacturer:
American Glass Company
Results 1 - 2 of 2

American Glass Company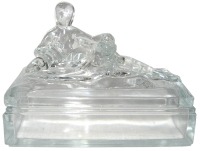 American Glass Co. 1940s before 1946
Variant price modifier:
Sales price:
Sales price without tax:
Discount:
Tax amount: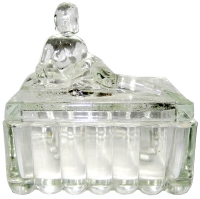 American Glass Co. 1940s before 1946
Variant price modifier:
Sales price:
Sales price without tax:
Discount:
Tax amount: